Upcoming Events
Upcoming Degrees Around New England!
September 19, 2016 to December 31, 2016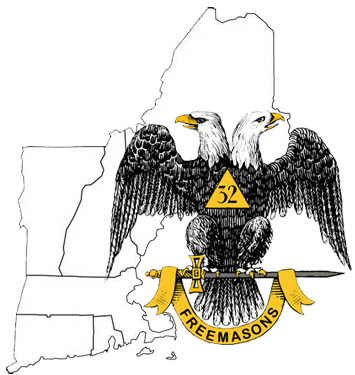 The new masonic year has officially started and there are plenty of new opportunities to fill your Scottish Rite passport! The Valley of Boston performs two one day classes a year with each body performing at least one degree. However, you may be wondering where you can find the other degrees you need to fill your passport. The Northern Masonic Jurisdiction is vast, but it is not so large that it makes traveling for degrees impossible. Here are all of the upcoming degrees around New England to help you fill your passport! It's important to remember to contact another Valley before you visit. That way they know you're coming, you can make sure the degree is still happening and so that you know where to got.
For a full list of degrees across all of the Northern Masonic Jurisdiction and their contact information,
click here!
| | | | |
| --- | --- | --- | --- |
| Degree | Valley | Date | Notes |
| 4° | Aroostook, ME | - February 11, 2017 | |
| | Rockland, ME | - February 23, 2017 | DVD |
| | Rockland, ME | - March 23, 2017 | DVD |
| | Rockland, ME | - April 27, 2017 | DVD |
| | Concord, NH | - February 27, 2017 | |
| | | | |
| 5° | Aroostook, ME | - February 11, 2017 | |
| | | | |
| 6° | Rockland, ME | - February 23, 2017 | DVD |
| | | | |
| 12° | Aroostook, ME | - February 11, 2017 | |
| | Rockland, ME | - February 23, 2017 | DVD |
| | | | |
| | Aroostook, ME | - February 11, 2017 | |
| | Concord, NH | - March 04, 2017 | |
| | | | |
| 15° | Hartford, CT | - October 13, 2016 | |
| | Bridgeport, CT | - October 17, 2016 | |
| | New Haven, CT | - October 17, 2016 | |
| | Waterbury, CT | - October 17, 2016 | |
| | Rockland, ME | - March 23, 2017 | |
| | Boston, MA | - October 29, 2016 | |
| | Worcester, MA | - November 07, 2016 | |
| | Providence, RI | - January 25, 2017 | |
| | | | |
| 16° | Nashua, NH | - November 05, 2016 | |
| | | | |
| | Rockland, ME | - April 27, 2017 | |
| | Boston, MA | - October 29, 2016 | |
| | Concord, NH | - April 01, 2017 | |
| | | | |
| 18° | Norwich, CT | - October 15, 2016 | |
| | Hartford, CT | - October 27, 2016 | |
| | Bridgeport, CT | - November 07, 2016 | |
| | New Haven, CT | - November 07, 2016 | |
| | Waterbury, CT | - November 07, 2016 | |
| | Rockland, ME | - April 27, 2017 | |
| | Boston, MA | - October 29, 2016 | |
| | Worcester, MA | - December 05, 2016 | |
| | Nashua, NH | - November 05, 2016 | |
| | Concord, NH | - April 17, 2017 | |
| | Providence, RI | - April 26, 2017 | |
| | | | |
| 19° | Hartford, CT | - October 13, 2016 | (DVD) |
| | Concord, NH | - November 05, 2016 | |
| | Nashua, NH | - November 05, 2016 | |
| | | | |
| 21° | Bridgeport, CT | - October 15, 2016 | |
| | New Haven, CT | - October 15, 2016 | |
| | Waterbury, CT | - October 15, 2016 | |
| | | | |
| 22° | Norwich, CT | - October 15, 2016 | |
| | Bridgeport, CT | - December 05, 2016 | Singing Degree |
| | New Haven, CT | - December 05, 2016 | Singing Degree |
| | Waterbury, CT | - December 05, 2016 | Singing Degree |
| | | | |
| 24° | Bridgeport, CT | - October 24, 2016 | |
| | New Haven, CT | - October 24, 2016 | |
| | Waterbury, CT | - October 24, 2016 | |
| | | | |
| 26° | Bridgeport, CT | - October 26, 2016 | |
| | New Haven, CT | - October 26, 2016 | |
| | Waterbury, CT | - October 26, 2016 | |
| | | | |
| 31° | Boston, MA | - October 29, 2016 | |
| | Providence, RI | - March 22, 2017 | |
| | | | |
| 32° | Bridgeport, CT | - November 12, 2016 | |
| | New Haven, CT | - November 12, 2016 | |
| | Waterbury, CT | - November 12, 2016 | |
| | Norwich, CT | - November 12, 2016 | |
| | Hartford, CT | - November 12, 2016 | |
| | Nashua, NH | - November 12, 2016 | |