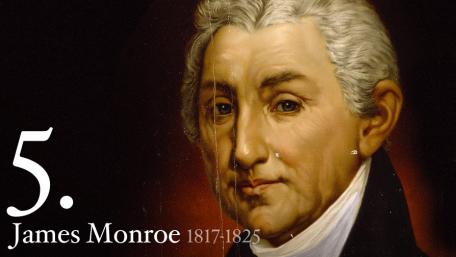 Brother Monroe was born in Westmoreland County, Virginia on April 28, 1758, to Spence and Elizabeth Monroe. Growing up in a family of prosperous planters, Bro. Monroe studied at Campbell Town Academy where he excelled in Latin and Mathematics. He later went on to attend William and Mary College. However, he did not complete his education there as he withdrew to fight in the American Revolution. He served under General Mercer and fought at Harlem, White Plains, and finally the Battle of Trenton where he was injured after being shot in the shoulder. He would go on to achieve the Rank of Lieutenant Colonel.
The political career of Bro. Monroe began in 1783 when he served as a member of the Continental Congress for three years. From 1790-1794 he was the U.S. Senator from Virginia, and acted as one of the negotiators of the Louisiana Purchase in 1803. From 1799-1802 he served as the Governor of Virginia, a title he held again in 1811. Bro. Monroe became the U.S. Secretary of State from 1811-1817, and during the same time was the U.S. Secretary of War from 1814-1815. In 1817 he was elected President of the United States, and served two terms.
Serving as President for eight years, there are many notable events that occurred under the presidency of Bro. Monroe. His time as President was marked as a period of good feeling due to the lack of fractional quarrels in the government. Furthermore, Florida was acquired in 1819 and the Missouri Compromise was enacted in 1820. In 1823 the famous "Monroe Doctrine" was unveiled, stating the United States intention to remain neutral in European conflicts. Additionally, Bro. Monroe pushed religious freedom during his term. Stating in his first inaugural address the concept of religious freedom, "boasting that Americans may worship 'the Divine Author' in any manner they choose."
President Monroe joined Freemasonry as an Entered Apprentice in Williamsburg Lodge No. 6 at Williamsburg, VA., on November 9, 1775. Sadly there is no record of his taking any further degrees beyond the first. The records of Cumberland Lodge no. 8 in Tennessee, June 8, 1819, show a reception for Monroe as "a Brother of the Craft." possibly a Master Mason in 1776.
Bro. Monroe did far more in his life than what could be highlighted here. To read more about President Monroe, click here! Our list of the top five Masonic Presidents will continue on September 23, 2016!